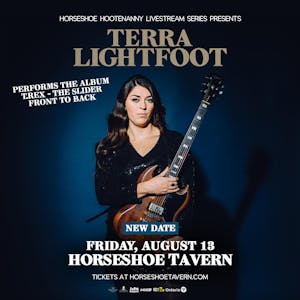 Horseshoe Hootenanny Livestream Series Presents
Terra Lightfoot Performs the album T.Rex - The Slider Front to Back
Funding provided by the Government of Ontario
Terra Lightfoot plays the Horseshoe Hootenanny on Friday, April 30, 2021
This This full band multi camera pro shot livestream event will be live streamed across the globe!
Livestream tickets are on sale now!
Stream Log in: 7:30PM EST
Concert Stream Start times:
8:15 PM EST - Toronto / New York
7:15 PM CST - Winnipeg/Chicago
6:15 PM MST - Calgary/Minneapolis
5:15 PM PST - Vancouver/ Los Angeles
Horseshoe Hootenany is an ongoing series with more artists to be announced in the coming weeks.